Priče o pesmama (V)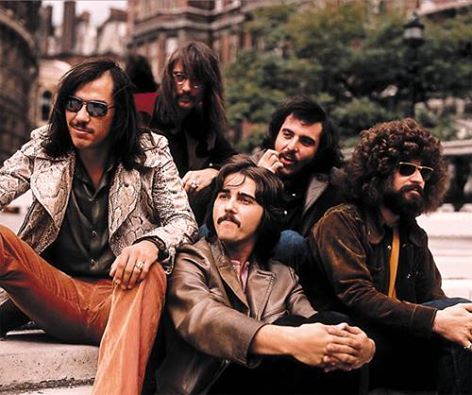 Electric Flag Outtakes – Tekstovi pisani za Našu Borbu 1996/97. godine pod nadnaslovom Priče o pesmama, a koji nisu objavljeni u knjizi Električna zastava – Priče o pesmama (V), Naša Borba, 9.10.1996.
Staza od snega
Hojt Ekston: Snowblind Friend
You say it was this morning when you last saw
your good friend
Lyin' on the sidewalk with the misery on his brain
Stoned on some new potion he found upon the wall
On some unholy bath in some ungodly hall.
He only had a dollar to live on 'til next Monday,
But he spent it all on comfort for his mind.
Did you say you think he's blind?
Some one should call his parents or a sister or
a brother
And they'll come and take him back home on a bus
But he'll always be a problem to his poor and
puzzled mother.
And he'll always be another one of us.
He said he wanted heaven but praying was too slow.
So he bought a one-way ticket
On an airlane made of snow
Did you say you saw your good friend flyin' low?
Među mitskim junacima roka posebno mesto zauzima ultimativni urbani očajnik – narkoman. Ta sluđena individua, bolesna na smrt od neprepoznatog očaja, koja glavinja prljavim avenijama megapolisa u potrazi za srećom u "igli punoj greha", svojim prljavim i ljudski nedostojnim tragovima, iscrtava poslednji pakleni krug života. Dragovoljni silazak u ad – kao posledica zablude nastale fatalnim zastojem u razvoju koji budućem narkomanu ne omogućava izlazak iz toplog ali kratkotrajnog gnezda detinje sigurnosti i omnipotentnosti – budi, i pored sve svoje tragičnosti i prljavosti, dozu ledenog strahopoštovanja. Ruski rulet sa špricom i venom, umesto pištolja i slepoočnice, koji narkoman igra naočigled svoje porodice, prijatelja ako ih ima, ljubavnica i ljubavnika, nagoveštava crnu egzistencijalnu rupu, koja zabašurena civilizacijskim šarenim lažama, persistira u svakom čoveku. Zbog toga zlehuda narkomanski soj poprima ulogu biblijskog krda svinja koga su naselili ljudski demoni: opsednuti, bezglavo jure u hladno jezero smrti. Narkoman koji sa HIV virusom u krvi i bedom u opustošenom mozgu ide, stazom od snega, na mesto sa kojeg nema povratka, ispunjava svoju socijalnu ulogu. On je strašilo za dobro socijalizovane koje ih upozorava šta ih čeka ako se drznu da prekorače granice dodeljene slobode.
Elegantno i nepretenciozno, kako dolikuje, u pesmi "Snowblind Friend", kantri-folk trubadur Hojt Ekston je, manirom uličnog mudraca i pesnika, sažeo slike i činjenice jedne tužne narkomanske sudbine. Sneg kao metafora i prijatelj njime zaslepljen, kome su molitve bile suviše spor način za dosezanje raja, iskorišćeni su ovoj pesmi kao gradivni materijal za potresnu priču o ljudskoj želji, nadi, ograničenosti i nemoći. Niski let sa kartom u jednom pravcu, snežnom vazdušnom linijom, odveo je junaka ove pesme do spore smrti na uličnom pločniku. To je rešenje pronađeno na kraju egzistencijalne jednačine u kojoj se kao nepoznate pojavljuju strah, želje, frustracije, nemoć i nedostatk smisla. Ovo nije, naravno, jedino rešenje ove jednačine. Ono se od drugih razlikuje po brzini, kratkoći i količini besmisla. Podjednako je, međutim, tačno. Nažalost.
Ovu pesmu Ekston je napisao šezdesetih godina i ona je bila hit za sastav Steppenwolf. Inače ovaj bend je svirao još jednu Ekstonovu pesmu sa sličnom tematikom "Pusher", koja se može čuti u filmu "Easy Rider".
Ekstonove pesme bile su veliki hitovi za bend Three Dog Night i Ringa Stara. Sam Ekston imao je impresivnu karijeru obeleženu gomilom odličnih kantri-folk ploča. Poseldnjih godina Ekston se posvetio glumi. Zanimljiva činjenica, koja svedoči da iver ne pada daleko od klade, je da je Hojtova majka Me Ekston autor velikog hita Elvisa Prislija "Heartbreak Hotel".
Pesma "Snowblind Friend" se može čuti na novom albumu benda Brute (Vik Česnat + Widespread Panic) koji je izašao 1995. godine. Tužna relevantnost ove pesme opire se godinama i modi. Priča o narkomanima koji nisko lete a umiru sporo, ili sporo lete a umiru nisko, večita je tema roka.